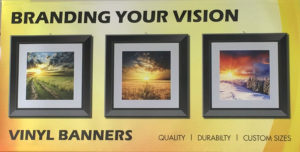 Our graphic design experts can help customers achieve their marketing vision, applying both creativity and the latest artistic methods. Regardless of the project's size or complexity, we'll take the time necessary in order to ensure the highest level of quality and detail possible. For additional information on our custom banners, please contact us or refer to the table below.
Full Color Banners
Banner Size…….Price
2′ x 5'…………….$75.00
3′ x 5'…………….$105.00
3′ x 6'…………….$105.00
3′ x 8'…………….$150.00

3′ x 10'…………..$175.00
4′ x 8'…………….$175.00
Custom sizes available!

Call us at 1-262-677-2780

Includes sewing and grommets

Full color banners made with 18 oz. gloss white, vinyl scrim material.

Other banner materials available depending on application.

Two-sided banners also available.
Banner Displays
33.4" x 86 Roll up Stand & Insert..…..$200.00
Roll up Banner Insert  ………………….$75.00
Product Details
At B&L Graphic Solutions, our high quality, custom banners help businesses promote their brand with vibrant, eye-catching visuals. We produce both glossy and matte banners using materials such as white vinyl, polyester, polystyrene, and polypropylene. We're capable of manufacturing banners with overall dimensions of up to 20' x 63", achieving tolerances as tight as +1/16". They can also be fabricated with thicknesses from 10 oz. to 18 oz vinyl and 7 mil to 16 mil plastics. Our state-of-the-art digital printing processes will yield high-resolution graphics for practically any marketing application.Our banners are produced according to the customer's exact specifications, integrated with unique features including color matching. For easy hanging and tear prevention grommets and finished hems can be installed to ensure robust performance for repeated use for indoor and outdoor occasions.